Dan's Cafe and Lounge
Come in for a nice pot of tea, made properly, or any one of our delicious specialty coffees, made from freshly ground espresso beans from our shiny Italian machine. Let Helen make you a hot steaming espresso, cappuccino, mocha, Americano, London Fog, or a superb latté. Don't forget a fresh pastry, dainty, croissant or a slice of delicious cake, torte, pie, cheesecake or anything else that catches your fancy from our display cases!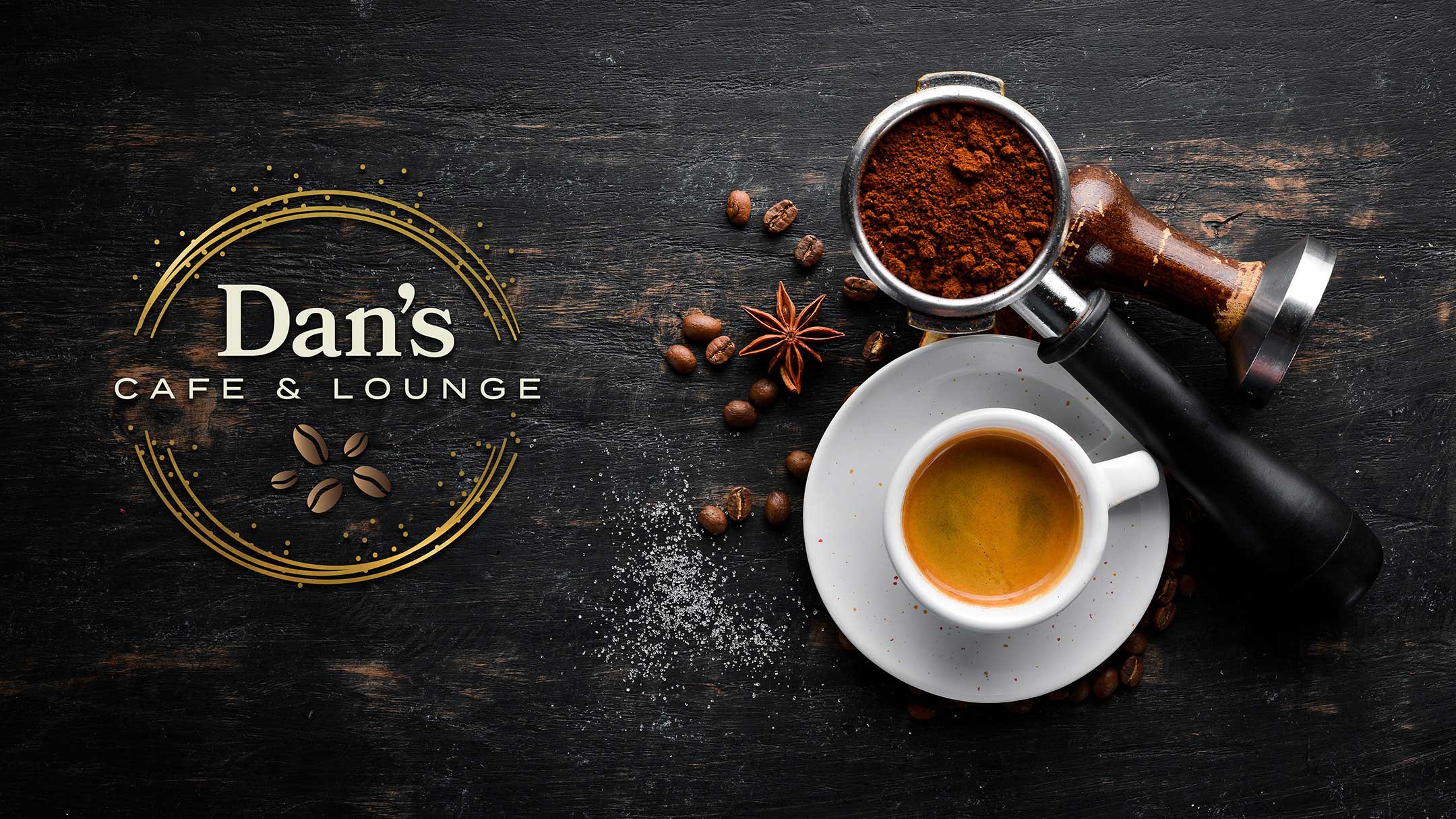 Special Event?
Sometimes we might open early or stay open later for a special event, like the upcoming phenomenon, the WHITEOUT party downtown! If you like our space and would like to have your group meet, come in and see if we can work something out. We have quite a bit of space, and the area toward the back of our lounge might be perfect for us to reserve for your group.
Latte
S $3.50 / M $3.85 / L $4.25
Cappuccino
S $3.50 / M $3.85 / L $4.25
Americano Misto
S $3.25 / M $3.55 / L $3.75
Macchiato
S $3.00 / M $3.50 / L $4.00
Conpanna
S $2.95 / M $3.25 / L $3.75
Americano
S $3.15 / M $3.45 / L $3.65
Espresso
S $2.25 / M $2.50 / L $3.00
Brewed coffee medium or dark roast
S $2.00 / M $2.25 / L $2.75
add espresso shot 90¢
add tea bag 50¢
add flavour 60¢
non-dairy substitutions – 80¢ – ask your barista
Hedaehoa Mocha
S $4.00 / M $4.25 / L $4.55
Mocha Valencia
S $4.25 / M $4.75 / L $5.25
Moccaccino / White Mocha
S $4.00 / M $4.50 / L $5.00
Hot Chocolate
S $3.50 / M $3.95 / L $4.45
Flat White Chocolate
S $3.50 / M $3.95 / L $4.45
Caramel Macchiato
S $3.50 / M $3.95 / L $4.45
Vanilla Macchiato
S $3.50 / M $3.95 / L $4.45
White Amerito Macchiato
S $3.75 / M $4.25 / L $4.75
Chai Latte
S $3.85 / M $4.25 / L $4.75
London Fog
S $3.50 / M $3.85 / L $4.50
Hot Apple Cider
S $3.25 / M $3.75 / L $4.00
Caramel Apple Cider
S $3.50 / M $4.00 / L $4.50
Iced Americano
$3.85
Iced Latte
$4.25
Iced Mocha
$4.50
Frappuccino
$4.75
Frappuccino With Flax
$5.75
Iced Chai Latte
$3.95
Iced Tea
$3.45
Italian Soda
$3.45
Iced Caramel Apple Cider
$4.25
Dan's Fresh Smoothies
Choose your flavour. Flax with date, strawberry banana, mixed berry, berry fruit mix.
$6.75
Cold Croissant Sandwiches
Lord of Tarragon
Savoury tarragon chicken
$8.50
Prince Edward
Egg salad & dill
$6.99
Sunken Treasure
Own own tuna salad
$7.00
Hot Panini sandwiches
Castle Club
Turkey, ham, bacon
$10.99
Royal Roast
Sliced roast beef, cheddar
$10.99
Treasure chest
Honey ham, swiss cheese
$10.50
Court Jester
Smoked turkey breast
$10.50
Dan's Fresh Salads
Exotic Kingdom
Mixed greens, almonds, fruit, balsamic vinaigrette
$9.00
Greek Princess
Romaine, iceberg, feta, olives, Greek vinaigrette
$10.99
House Guard
Mixed greens, veggies, your choice of dressing
$8.99
Life's too short for bad coffee